Last week I covered different writing techniques and styles for writing for kids who don't enjoy reading. I'm also including tactics to encourage kids to read and my book suggestions for reluctant readers. As a parent, teacher and writer, encouraging independent literacy is important to me. Reading is a powerful tool, it can entertain, educate and inform.
Most writers are keen readers, so it's easy to overlook the many kids that struggle with reading and therefore don't get any enjoyment out of persevering though what they see as a chore. If you can change that, you can change a child's world.
My eldest daughter struggled with reading at the age of ten. Our home is filled with kids books and every opportunity is given for the kids to read whenever they want. That was the problem--she didn't want. I tried giving her some classics to read and she hated them. What she did love was graphic novels. We got her favourite (Buffy the Vampire Slayer) and she devoured it. There is text to read, but the images help kids follow the story. It's a good starting place for reluctant or struggling readers. There is a need to move on though, and we would reward our daughter with a new graphic novel every time she finished a text novel (of her choice). She loves reading now, enjoying stories like Of Mice and Men, but also still enjoys graphic novels, especially manga.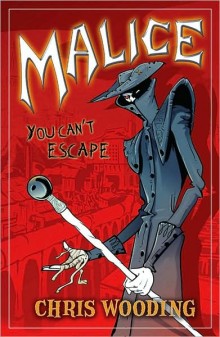 Combination graphic and text novels
This can be a good next step from comic books. There are novels that combine illustrated comics with text chapters. In Malice by Chris Wooding, the text novel converts to graphic novel when the kids enter a magical but scary world.
Electronics
Kids love gadgets. Despite early talk that ebooks would kill books, I believe Kindles, Kobos and iPads have made reading cool again. One of my most popular creative writing classes is when I bring in iPhones, iPads and Kindles for the kids to play with and discover new ways of accessing books. They love it. Many whip out their iPods and iPhones and start downloading the Kindle app right away. You could take this a step further and create your book as an app. Mix in games, music, videos--you're limited only by your imagination! Blue Quoll create fantastic app books for younger readers (picture books), check out the trailer for Mr Wolf and the Ginger Cupcakes:
Interactivity
In the era of online gaming, kids want interaction. You could have games embedded within your story, codes to break or mysteries to solve. Another style of storytelling that's making a comeback is 'choose your own adventures'--readers get a choice at the end of critical chapters, will the protagonist turn left and take on the fire-breathing dragon, or right and attempt to rescue their best friend from the dungeon? Kids can read the same book several times and get different stories.
I'm plotting out one of these kind of stories.
Skeleton Creek by Patrick Carman combines text and videos.
Contemporary
Language is an evolving creature. Even stories written only twenty years ago can be unappealing to new young readers. It's enough of a step to get them to read a book, you don't want them to struggle with the colloquials of a bygone time. They may rush to C S Lewis once they have the reading bug, but initially try contemporary novel that use lingo and technology familiar to the reader. Both Gabrielle Lord's Conspiracy 365 series and Christine Harris' Raven Lucas series are modern day adventure books.
Age appropriate
Generally kids will read about characters their own age and older--not younger. Younger is about little kids (no matter what age, this is how a 9yr old feels about an 8yr old and how a 14yr old feels about a 13yr old). They don't want to read little kid books. They want to read books for their own age group even if their reading skill is not at the 'average' for their age group.
This is a great way to get kids who won't read hooked on stories. Then they may want to push that further by reading their own books. For struggling readers you can combined print text with audio, kids can read along to a huge choice of books. It's pretty easy to get your book made into an audiobook these days with sites like Audible. You can narrate your own story or (if you have a dodgy reading voice like me) hire someone to narrate it. There's plenty of talent out there, like Luke Smith (my talented brother):
http://www.lukesmithvt.com
Clear story lines.
Ambiguous metaphors and casts of thousands don't belong in a beginner reader's novel. You might love Game of Thrones or The Stand, but keeping to just a couple of characters and no more than two locations is a lot easier to follow. Teen boys enjoy Mathew Reilly's action books, and they start off with quite a few characters, but hey, most get killed off pretty quick.
That wraps up my two part series on writing for reluctant readers. Do you have a favourite book for struggling readers? Share it with us in the comments! And if you think this post is helpful, feel free to share it.